Our strategic planning business retreats, leadership development retreats, and team-building golf experiences and retreats are customized to meet your organization's needs. IN-18 executes events to foster inclusive work environments and long-term relationships. IN-18 delivers team building activities to build cross-functional and cross-rank relationships.
What is a team-building?
Tasks or activities performed by a group of people with a related aspect of work. Tasks are designed to increase their motivation, improve collaboration, and increase overall productivity.
Why golf?
Relationships are built on the golf course. We take an individual activity like golf and structure it to drive conversations of inclusion. By sharing this experience, participants discover common ground together.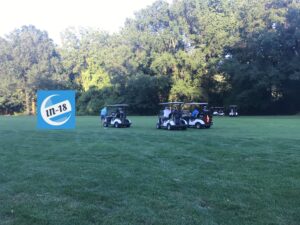 Team Building and Transformation Through Golf
Held at the driving range or golf course, we provide a series of activities to engage and help clients make deeper connections and use the game to grow
This training is offered to all who aspire to lead. In this experiential learning experience, Participants will learn how to play golf and how golf parallels leadership and life. Golf is 90% mental, just as school leadership and there is also a physical element. During this time, participants will engage in rich discussions, deep reflection and building self awareness. This invigorating and inspiring experience will provide practical, meaningful team-building among the participants that will carry over to the school team. Participants will safely dig into examples from their own experiences, engaging in authentic dialogue around change management, risk-taking, trust and personal development.
This offering is designed for new associates, cross-functional or cross-level teams, mid-level managers, and Executive leaders in Corporate America. During the workshop, participants will play and find a new way of engaging with each other.
The areas of focus give participants practical ways to work together through play. From experiencing vulnerability to strategizing for success, we use golf to strike a balance between the experience and skills of different team members. Half and full day options are available.
9 Areas of Focus:
Integrity, Emotional Intelligence, Confidence, Patience, Strategy, Communication, Teamwork, Mindset, Adaptability
For students, we partner with Finer Life Golf Foundation.