Does your company have a strategic plan or a business plan?
Does it help you remove yourself from the day-to-day busywork?
WORK WITH US
We specialize in building strategic and operational plans for small and medium sized business. How do you leverage the basics of project management and operations for growth? Let us show you how.
Our clients are companies that have been in business for 3-5 years, with 5 or more employees. Our in-depth assessments within Technology and Operations prepares companies for rapid growth. Each step of our process, paired with the assessment tool, enables us to design a measurable action plan. Streamlining processes, designing for scalability, and delivering greater efficiency, requires the individual attention we give each client. That is why we offer flexible solutions to meet you where you're at, but are you ready for change?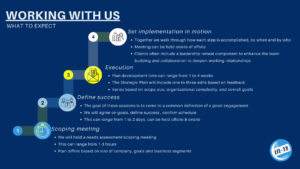 WHAT TO EXPECT
Step 1: Hold a needs assessment and scoping meeting
Step 2: Review assessment results and action plan
Step 3: Confirm scope, schedule, KPIs, and budget

Varies based on scope size, organizational complexity, and overall goals

Step 4: Begin implementation and progress reporting
Our LINKS-9 Strategic Planning approach
The approach consists of 5 steps and 9 areas of focus: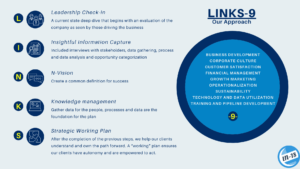 LINKS-9 ASSESSMENT AREAS
The core areas of focus are determined by your business' operational efficiency. Can the business continue if you are not there? Our goal is to eliminate key-man risk created by leaders and ensure processes are easy to follow or hand off to other team members.
Below are the most common areas of development for small and medium size organizations looking to scale.
Product or Service Fulfillment
Customer Satisfaction
Financial management
Technology Utilization
Data Management
Business Development
Marketing
Sales Generation
Employee Training and Development
---
WHEN WE'RE DONE, CLIENTS RECEIVE:
A comprehensive deck with tools to manage the business to meet goals set

Specific steps and tasks to accomplish goals
Accountability matrices for individual and department goals
Timeline and milestones
Risk management and escalation plan and process
Communication progress reporting plan and process
Performance metrics to measure progress

Monthly project management support*
Quarterly performance auditing, with management*
Six-month plan reevaluation and recalibration exercise, with management*
Year-end performance reporting*
* Add-on service options
WHAT HAPPENS AFTER?
After working with us business owners find it easier to communicate their next steps and how each step connects to their strategic goals. In addition, these business owners know how they are going to meet each goal and when.