You want to grow your business, but where do you start?
Posting on social media more, isn't a plan. It's a tactic.
When was the last time you reviewed your company's strategic plan?
How do leaders ensure everyone is moving in the same direction?
FORWARD.
WORKING WITH US
The process is customized based on our client's needs and overall goals. You're busy, we understand. That is why we offer flexible solutions to meet you where you're at.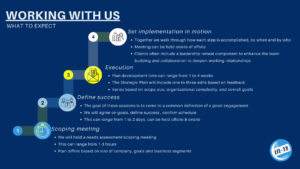 WHAT TO EXPECT
Step 1: Hold a needs assessment and scoping meeting

Time required can range from 1-3 hours
Varies based on the size of the company and business segments

Step 2: Agree on the goals, define success, confirm scope, and schedule

Strategic planning sessions range from 1 to 2 days and can be held onsite or offsite
For the most effective experience, we recommend sessions are held offsite

Step 3: Execution – LINKS-9 (see below)

Plan development time can range from 1 to 4 weeks
The Strategic Plan will include one to three edits based on feedback
Varies based on scope size, organizational complexity, and overall goals

Step 4: Set implementation in motion

Together we walk through how each step is accomplished, by when and by who
Meeting can be held onsite of offsite
Clients often include a leadership retreat component to enhance the team-building and collaboration to deepen working relationships
Our LINKS-9 Strategic Planning approach
The approach consists of 5 steps and 9 areas of focus: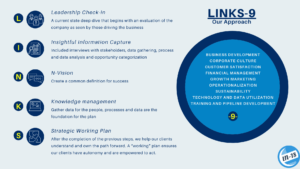 5 STEPS
Leadership Check-In
A current state deep dive that begins with an evaluation of the company as seen by those driving the business
Insightful Information Capture
Included interviews with stakeholders, data gathering, process and data analysis and opportunity categorization
N-Vision
We use a variety of tools to help leaders express desired outcomes, SMART goal setting, and create a common definition for success. This process successfully unearths priorities, individual expectations and motivation
Knowledge Management
We leverage resources and institutional knowledge to capture data for the LINKS9 performance areas. The people, processes and data are the foundation for the plan
Strategic Working Plan
After the completion of the previous steps, we help our clients understand and own the path forward. A "working" plan ensures our clients have autonomy and are empowered to act.


Add on services include:


Project execution, project quality assurance, stakeholder communication management, leadership training and coaching, process reengineering, automation, operational build-outs.
LINKS-9 FOCUS AREAS
The core areas of focus for your strategic working plan are determined by your business goals. Below are the most common areas of development for small and medium size organizations looking to scale.
Business Development
Corporate Culture
Customer Satisfaction
Financial management
Growth Marketing
Operationalization
Sustainability
Technology and Data Utilization
Training and Pipeline Development
---
ALL ENGAGEMENTS INCLUDE:
An onboarding meeting with project sponsor (s) to capture critical data
The kick-off meeting to review timeline and project plan
Planning Session:

L

eadership Check-In

I

nsightful Information Capture

N-

Vision

K

nowledge Management

Execution Session:
Project Check In(s)
WHEN WE'RE DONE, CLIENTS RECEIVE:
A comprehensive deck with tools to manage the business to meet goals set

Specific steps and tasks to accomplish goals
Accountability matrices for individual and department goals
Timeline and milestones
Risk management and escalation plan and process
Communication progress reporting plan and process
Performance metrics to measure progress

Monthly project management support*
Quarterly performance auditing, with management*
Six-month plan reevaluation and recalibration exercise, with management*
Year-end performance reporting*
* Add-on service options
WHAT HAPPENS AFTER?
After working with us clients have clarity. They find it easier to communicate their goals, how they are going to meet them, and when. Having a strategy in hand, simplifies the process of evaluating new opportunities.
The plan is the company playbook.
One team, focused and moving in one direction.